2017
Winterization Labor Rates
Parts and Materials
TWIN ENGINE $150.00 Oil Filter $13.75
TRIPLE ENGINE APP $65.00 Fuel Stabilizer $10.50
WATER SYSTEM $40.00 Antifreeze $10.75
HEAD SYSTEM per $40.00 Fogging Oil if needed $ 3.99
AIR CONDITIONER per $40.00 Fuel Water Separator $13.75
GENERATOR per unit $40.00 Generator Filter $14.75
Waste Oil Disposal Fee $ 3.50
Sales Tax Additional and quantities used will vary
based on size of your boat and services requested.
Please call for estimates on parts and materials
used for your specific boat.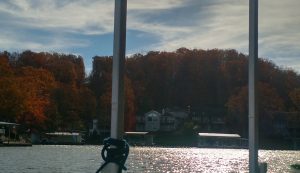 Labor includes: Drain block, manifolds, power steering, oil coolers and add antifreeze. Fogging oil, add fuel stabilizer, remove and replace fuel water separator, check water levels in batteries, shut down power to all systems, leave battery charger on, secure your boat for winter. Rates listed here are LABOR ONLY. Please see prices listed for other rates and charges. Our service call to your dock is not included in labor fees.
Additional Services to consider at winterization
fresh oil on the bearings is beneficial to protecting the life of these crucial components in your boat.
we recommend the following maintenance at this time
engine oil change (recommended NOW and required at 100 hrs or annually) ……………………….labor only per motor $75.00
ENGINE OIL CHANGE (RECOMMENDED NOW AND REQUIRED AT 100 HRS OR ANNUALLY)……………………….LABOR ONLY PER MOTOR $85.00
Labor for oil changes includes changing fluids and filters in addition to inspection of levels. Materials and sales tax additional.
service outdrives (recommended now and required at 100 hrs or annually)………….Labor only per and at our clinic $85.00
Labor to service outdrive(s) includes draining outdrive(s), removal, inspection and lubrication of u-joints, splines, linkages, replacement of gaskets and /or o-rings, check alignment, remount and fill with lube. Materials, sales tax and haul out are additional.
other charges
SERVICE CALL- OUR DOC TO YOUR DOCK …………………………………………………$45.00
Note: All boats will be charged this fee for winterization services at your dock